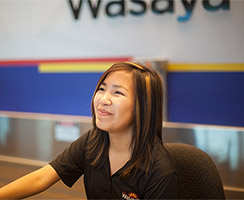 Wasaya Airways is always interested in hearing from its customers and is available for any questions you have regarding any one of our services.
(807) 473-1200 
Toll Free
1-877-492-7292
Statement of Commitment
Wasaya Airways strives to provide services to respect the dignity and independence of persons with disabilities. We are committed to removing, identifying, and preventing barriers to accessibilities and understand it's important that our policies, practices, programs, and services are accessible for all.
Wasaya Airways commits to meeting the communication needs of persons with disabilities. Your feedback is important to us.
 If you're experiencing a barrier to accessibility and want to help improve and advance our accessible services, please contact us using one of the methods below.
Calling 1-877-492-7292 or TTY relay service

Complete and submit form on website HERE

Email:  

reservations@wasaya.com

Mail to: 201 Kelner Place, Thunder Bay Ontario P7E 6V3
Contact Person: Rob Fox - Director of Flight Operations
Phone: 807-473-1215 ext.7864
Email: rfox@wasaya.com
Wasaya Airways Accessibility Plan 
You can also use these channels to request this plan or our progress reports in print, large print, braille or electronic format.